Calum Chambers has spent the 2018/19 season on loan at Fulham. I asked Fulham journalist Russel Goldman about how the Arsenal loanee was getting on.
My thanks to Russell Goldman of the Talking Cottage podcast for speaking with me. You can follow him on Twitter at @Russ_Goldman
Arsenal signed Calum Chambers in the summer of 2014 for a reported £16 million. The deal, as Arsene Wenger later revealed, stemmed from an excellent performance from the then 19-year-old against Arsenal, in which he played right-back. Wenger was enamoured with his potential and felt that he had to sign him.
Fast forward nearly five years, and it would be fair to say that Chambers is yet to realise that potential, if that potential was ever there in the first place. There have certainly been some bright moments and he has improved in key areas, but the fact that Unai Emery chose to overlook him in favour of two younger centre-back in his first summer at the club is telling.
More from Pain in the Arsenal

In overlooking him, Emery sent Chambers on a season-long loan to Fulham. Concerning with how much playing time he could provide the still-developing defender, Emery believed it would be more beneficial for Chambers' career if a loan move was conducted. And so, the 2018/19 season has been spent at Craven Cottage.
For Fulham as a whole, it has not been a positive season. Stranded in the relegation zone for much of the campaign, resigned to the drop, and failing to overcome a harrowing propensity for blowing leads with some disastrous defending, the Londoners have struggled mightily in the top tier of English football, despite spending nearly £100 million in the summer.
Nevertheless, Chambers has been one of the rare positive stories out of the club. To get a greater handle on his time there, I spoke to Russell Goldman of the Cottage Talk podcast. This is what he had to say:
"Calum Chambers has been one of the bright spots for Fulham as he has grown into the role as a defensive midfielder. With that said he was moved back to centreback for the last match and did well. I do think in the long run, centre-back is where he can thrive, and I don't think he has come close to his ceiling. I think he can be a starter for Arsenal if given the opportunity."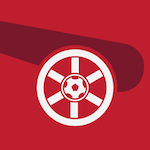 Want your voice heard? Join the Pain In The Arsenal team!
That is certainly encouraging to hear. From the limited action that I have seen, Chambers had played well, especially once moved into the midfield by Claudio Ranieri. But it is nice to hear from someone who follows the club much more closely to be positive about Chambers' performances, and to also forecast forward a challenge for a starting spot in north London next season.
Whether Chambers can prove Emery's opinion of his value from last summer wrong remains to be seen. And what position he chooses to focus on is also yet to be determined. I tend to agree with Russell that Chambers future probably belongs at centre-half. But given the options that Arsenal already have at that position, he might find more opportunities in midfield.
Nevertheless, Chambers has been a positive for Fulham this season and should return to north London buoyed by his form and the individual improvements he has made. Now all he needs is an opportunity to forge a long-term starting role for himself.